Head Golf Professional
843.763.1817 ext. 3
sglaze@stonoferrygolf.com
The game of golf captured Scott's heart at a very young age and he was able to turn that immense passion into a fruitful playing career. Scott earned various state-wide honors as a junior golfer before competing collegiately as at student-athlete at the College of Charleston. His amateur career was highlighted by competing in the 2006 United States Amateur Championship, contested at the Hazeltine National Golf Club in Chaska, MN. Upon closing the book on his fruitful collegiate and amateur careers, Glaze next took his game to the professional golf ranks by way of various pro tours across the Southeast. After several years travelling and competing on the mini-tours, he began to transition into the business side of golf with the PGA of America and Stono Ferry.
Scott spent time at Stono Ferry as an Assistant Professional from 2014 – 2016, and has been the Head Golf Professional since 2017. He brings a passion and knowledge to the many aspects of the game of golf that are unique, fresh, and undeniable. He has shared experience with some of the game's top instructors, and continues to study and analyze the golf swing using the game's best technology. Scott is prideful in helping you to build an efficient golf swing, improve your course management and mental game, and have more fun playing this beautiful game of golf.
Ben Sloan
First Assistant/Teaching Professional
843.763.1817 ext. 1
sloangolfinstruction@gmail.com
Ben Sloan is a teaching professional bringing extensive knowledge of the golf swing, course management and ever evolving teaching technology. During his high school and college playing days as well as now works with some of the top instructors in golf. This leads his desire to become a top teaching professional. He was nominated as Golf Digest Best Teachers in the state of South Carolina. He is also BodiTrak certified along with being a Ping Certified Club Fitter.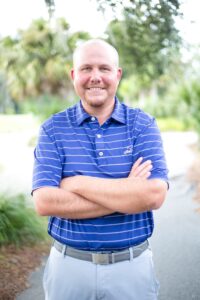 Richard Sierzega
Operation 36 Instructor
Richard is a Class A PGA golf professional and brings a wealth of experience in golf instruction.  He is First Tee and Operation 36 certified.  He teaches students of all ages and specializes in Junior Instruction.
After starting his career in the Western New York PGA Section, Richard more recently was a lead instructor for The First Tee in Aiken, SC.  In 2019, in partnership with Ben Sloan, he started the Stono Ferry Golf Academy for junior golfers ages 5-18 and adults.  Richard says, "The Operation 36 teaching program is the most innovative teaching program that I have ever seen; teaching the students from the green, back to the tee, and challenging each to shoot 36 or better from different yardages."